So, I haven't done a Not Me Monday for awhile.. Partially because I haven't been blogging much lately.. Also because Stellan, MckMama's (host of Not Me Monday) sweet boy has been in the hospital with a heart condition, the same condition he almost died from in utero. They've had a rough go of it and are on week four in the PICU. Things seem to be stabilizing out a bit but Stellan still needs cardiac care and will eventually need an ablation. You can click on the "Praying for Stellan" button in my left sidebar. Anyway, I've been following their struggle, praying for Stellan and his family and it's hit, at times, a little close to home..
So, I re-did the blog to make myself feel a bit better.. Turns out that wasn't completely necessary as Easter, and our Lord, helped me feel a LOT better. But what do you think of the new layout? It's starting to feel a bit more like home!
And then there's this: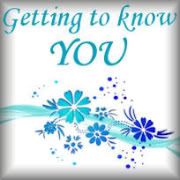 I FINALLY got my act together to participate. Lynnette, at "Dancing Barefoot on Weathered Ground" is featuring a blog every Monday & Friday, just to give us a chance to get to know each other a bit better. I LOVE the idea! You can get to her place by clicking on the Getting to Know You button (above or in left sidebar). Go, sign up! It'll be FUN!
And, last but CERTAINLY NOT least, I've won my
first ever blogging award!
How fun is that? I was totally surprised. But the sweet ladies at
The Suite Life of Lucy & Ethel
honored me with the "Friendship Award." I "met" Lucy, also known as Helen, when I won her book "The Jeffrey Journey" from Loni at
Writing Canvas
. I left a comment on Loni's post, Helen emailed me and it went from there. I read her inspiring book and have followed their blog a bit since. So they gave me the award with the comment:
We're sharing this award in the hope that you'll keep up the blogging :)http://thesuitelifeoflucyandethel.blogspot.com/2009/04/straw-wrappers-awards-and-prayers.html ~Lucy
How encouraging is that?? (Very!) And here it is:

And if I understand correctly, MY job is to pass "The Friendship Award" onto 8 blogs.. Here goes:
1. My friend Cathey who blogs at: And That's the Truth... Cathey and I have been job partners for almost two years, She & her husband, Keith, lost a son 20 years ago to Leigh's Disease. When Seth was in the hospital, they graciously came alongside Leland and I and walked that path with us. Words can't tell them how much they meant to us! I think they know... I couldn't pass on a FRIENDSHIP blogging award and not mention Cathey first!
2. The previously mentioned Loni at Writing Canvas Loni was one of the first bloggers I met who reached out and encouraged me. I commented on her blog a couple of times, emailed her when something she had written resonated with me in my grief. She emailed me back with sweet encouragement.
3. The also previously mentioned Lynnette at Dancing Barefoot on Weathered Ground Lynette has also written a book, In Faithfulness He Afflicted Me, about the 3 children that have preceded her into Heaven. And she was an encouragement to me, as much as Loni.
4. Lauren Biggs who blogs at That Girl. Lauren is young but wise beyond her years and a sister in Christ. I enjoy her blog quite a bit.. finding myself wishing she would blog more often.
5. Jess who blogs at Mourning into Dancing. Jess is also a sweet sister in Christ. I enjoy her blog and appreciate her transparency and vulnerability! I'm not sure she'd consider ME a friend but I certainly consider her one!
6. Millie who blogs at Colin~HLHS Warrior. Millie and I met on the HLHS support group I was on before Seth went to Heaven. Millie still reads and comments on my blog. She recently checked in with me on my Facebook page and I appreciate HER friendship as well!
7. Emily at Stepping Stones: a path to healing after losing a child. I can almost guarantee that Emily doesn't know who I am. I check in with her blog frequently and appreciate her heart to help moms who have suffered what she has suffered.
8. I'm pretty sure this last person won't acknowledge this award but I've decided not to let that stop me! I'm going to pass it on to our lead pastor, Glenn Teal. Glenn blogs at Fully Devoted. I find his blog to be inspiring and helpful in pointing my focus upward to Christ. In addition to that, Glenn (and his wife Nancy) did a pretty amazing job coming alongside and supporting Leland & I when Seth was dying. We felt really supported and cared for by them, and still do!
Well.. given that this post about miscellaneous items may turn out to be one of my longest posts ever, I think I'll call it a night! I hope you enjoy meeting some of my new friends. Let me know if you find a favorite among them. I think they are all gems!