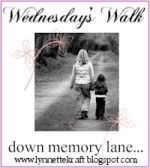 I realized something today. I am having a harder time remembering the happy moments with Seth. Not an IMPOSSIBLE time, just harder. So I've decided I'm going to try and get back to
Wednesday's Walk Down Memory Lane with Lynnette
and see if I can capture some of those, and other memories. I also want to remember some of the good memories our "big kids" have of Seth..
Today I had a moment memory with Kayleigh. We were cuddling in the rocking chair and she said something about Seth's feet. "Seth's feet were little." Yes, Kayleigh, Seth had little feet. "Not like MY feet." Not like your feet? Are your feet big? "Yes." "Mama, when Seth's feet get bigger, he wear MY shoes."
Tee hee, "He wear MY shoes." As if Seth would want to wear her little girl shoes! We DID talk about the fact that Seth was in Heaven and so he won't be wearing Kayleigh's shoes anytime soon. It was a sweet moment. I really treasure the times that my "big kids" and especially Kayleigh share Seth memories!
Kayleigh fell asleep in a weird position and I couldn't resist getting some pictures.