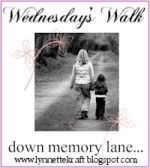 Another Walk With Me Wednesday that I'm getting up late. Some day I will get ahead of this blogging meme thing. Some day. In the meantime, since this is a memory, I'm going to combine Lynnette's Walk With Me, with Sufficient Grace's Walking With You. Kelly at Sufficient Grace Ministries is starting a place where moms who have lost babies can share the steps of their journeys.
For the first "Walking with You", Kelly suggested that we share the beginning of our journey. The moment, day, when we knew we would be walking this horrendous path. Our moments came in stages, for lack of a better word. Because Seth was born with a congenital heart defect and lived with us for six months, we walked a couple of different journeys.
But it really began on October 2, 2007. It was a Tuesday. We were just sitting down to eat and the phone rang. Leland answered and handed me the phone, it was my ob. The previous week we had done a
"nuchal fold" ultrasound
; he was calling with the results. I knew immediately that this was not good news and went downstairs with the phone. At that point, the information was limited to "Something is wrong with the baby and we can't say for sure what it is," none of the options were good. The best diagnosis at the time would have been Down Syndrome. Other possibilities were considered "incompatible with life", trisomy 18;13, for example. That was the first steps on the difficult path we would walk with Seth. We had no idea what we were in for but we knew something was coming..
We were pretty clear, from the beginning, that termination would NOT be an option for us, regardless of diagnosis. God had given us this baby and we would accept and love him regardless of his health. Our 18 week ultrasound was done by high-risk perinatologists. We were referred to a genetic counselor. We had some blood work done which had pretty much ruled out the scary trisomies and were led to believe we were most likely looking at Down syndrome. We could deal with that. At the 18 week ultrasound, we were informed that they couldn't get a good view of the baby's heart and we were referred to a pediatric cardiologist. That appointment was set up for about 22-24 weeks. We were not in a rush because we were not going to terminate and the feeliing was that we should wait until the baby's heart was big enough that the echo would be a bit more definitive.
And we prayed. And asked people to pray. And pressed in for a miracle. And believed. I was CONVINCED that we would walk out of that office having been told our baby had a perfect heart. The echo was long and in the middle I had to walk around because baby shifted positions. Finally the cardiologist came in, reviewed the films, and said she would talk to us in her office. She was very kind but as long as I live I will never forget hearing her say "This is probably one of the most serious things we could be looking at." (And I looked heavenward, "What? This is NOT the good news I was expecting to hear"). "Your baby has a defect known as Hypoplastic Left Heart Syndrome." I had done some research when we didn't know what we were dealing with, and I had come across HLHS, and tears IMMEDIATELY sprang to my eyes. And THAT began our journey as "heart parents." (Incidentally, the cardiologists were VERY reassuring and we were quite optimistic most of our pregnancy and Seth's time with us). But being "heart parents" is not what this is about. (And that portion of the road did have it's own bumps & potholes!)
So fast forward... Seth had his 2nd surgery, the Glenn, on Sept. 11, 2008. Almost a week later, Sept. 17 was probably the beginning of our grief journey. We were home,I had even gone to bed early and the phone rang. Leland burst into our bedroom; "Get up, we gotta go, that was the hospital".. I ran down and told my mom and we rushed to the hospital. Seth had coded. We didn't realize though, the road that would put us on. Fast forward a couple more weeks, October 2, 2008. Seth is still intubated, unresponsive, beginning to show
posturing
. During our care conference, one of the doctors tells us that he believes Seth could "have another code event within the next 24 hours." And prayerfully, Leland and I decide to not continue with any additional invasive procedures. Seth is put on comfort care. We loved that sweet boy for the next ten days and on the morning of October 12, Seth slipped quietly from my arms into the arms of Jesus.
When I look back, I can not believe how much my life has changed. The irony of recieving the intial phone call and the news that our baby was not likely to get better on the same day, a year apart, is not lost on me. As you can see, our journey did not have a definitive beginning to the road we're on now. We were so blessed to have the time we did with Seth.
I know that other HLHS angel moms occasionally find their way to my blog and I belong to a yahoo group that has been a helpful resource in connecting me with other moms -
HLHS Angels
I also found comfort in several websites, Lynnette Kraft's
blog
,
book
and
support website
. I found Emily's site,
Stepping Stones
helpful as well.
In addition, Leland and I attended a support group called
GriefShare
. I found it helpful enough to attend twice!
Kelly also suggested we close with a prayer request. I just continue to pray for God to turn my mourning into dancing. I am grateful that His mercies are new every morning and I seek restoration of joy! I also would ask for prayers for the hearts of my "big kids" as all of this has been difficult for them as well and I would hate to see it negatively affect their relationship with God.
Writing this out IS cathartic and I obviously enjoyed it enough to get very long-winded. Thanks for reading. I think this "Walking with You" will be an nteresting journey as well.