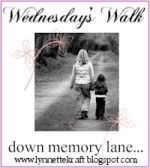 Welcome to my first ever, THE first ever, Walk with me Wednesday - Down Memory Lane. I LOVE the fact that Lynnette has decided to do this and open it up to all of us. I am a terrible historian, a lousy "record-keeper". I wish I were better at it, but I'm too much of a perfectionist. So, I'm THRILLED to have the opportunity (and excuse!) to do it here.
My first memory is a memory of mine but it also illustrates what a gift siblings are to each other. All of my babies smiled at about the "average" time, between 6 & 8 weeks of age. I remember Sean's very first baby smile. I was holding him on my lap, facing me. His little head in my hands, I was chatting away to him and he SMILED at me. I remember that giddy feeling, like when you had a crush in high school and the boy you like smiled at you! Sean was a very serious baby, we had to work hard for those smiles so they were all precious.
Three and a half years later, along came Cary. Sean was a big brother! And a great one, he was SO sweet to HIS "baby Cawee". It was obvious that Cary loved him too. Christmas Eve, 2001, I was holding Cary on my lap, he was facing sideways. Sean got up and came in the living room, walked over to greet us. He was SO animated with his baby brother! AND... Cary smiled at Sean! Sean was the recipient of Cary's very first smile! Cary was a much smilier baby than Sean, he handed them out like candy. But all those smiles were still precious and Sean got the very first one!
Almost four years later, along came Kayleigh! And how do you suppose HER first smile played out? She gave it to Cary! (You saw that one coming didn't you? Kayleigh was laying on her back on the couch. Cary came along to chat with her and pretty soon Cary's shrieking "Her smiled at me, her smiled at ME".. Now, I didn't witness it, but I did see smiles later that day and I believe it happened.
A mere two years later, here's baby Seth! One day, very shortly after coming home from the hospital, I was sitting on the sofa with Kayleigh and Seth. (I suspect the big boys were at school). We were just hanging out, having some cuddle time. Kayleigh was talking to Seth a bit. (And maybe he could understand her, I certainly couldn't at that point!). All of a sudden, Seth's face lit up. His eyes sparkled and he flashed a large gummy smile, RIGHT at Kayleigh! Now, in all fairness, Kayleigh was not quite as thrilled as her brothers had been when they received first smiles.. I suspect she didn't quite understand the importance of the moment. I was thrilled.. And excited that our family tradition continued. I think it's pretty darn special that all of my babies saved their first smiles for their next closest siblings. Something I always want to remember....
Click on the above button to check out more Walk with Me Wednesday Memories. (If I get a chance I'll upload photos later)